The pandemic has been a watershed moment for India Inc, especially for those unwired small businesses who tinkered with their IT capabilities only when their business continuity got endangered. The crisis not only accelerated digital transformation but also sped cloud computing adoption across sectors. Reportedly, the surge of tech adoption has grown 53% between 2020-21. In turn, it can be said that the companies who cared to embark on their cloud transformation journeys are now well-positioned to leverage artificial intelligence (AI) to achieve business benefits.
Simultaneously, cloud adoption also added AI adoption capability in India, owing to benefits such as cost optimization, increased availability of standardized data, and off-the-shelf machine learning models delivered over the cloud. Given this scenario, India stands to benefit greatly from the churn in AI adoption. Indeed, the democratization of AI and data corresponds to India's planned leap across the core sectors of agriculture, public health, SMEs, and infrastructure.
In fact, AI as a market has skyrocketed globally at the rate of 45% y-o-y in 2021 and is expected to reach US$ 219 billion by 2025. NASSCOM estimates that AI has the potential to contribute 10% of India's GDP by 2025, a figure that is conservatively pegged at $500 billion.
The bigger elephant in the room, however, is whether the small businesses will be able to achieve the goals that they had set for themselves after adopting AI applications in their business processes. Given that the high cost of AI-specific hardware, storage, and compute capabilities has been one of the most significant barriers to the wide-scale adoption of AI/ML technologies.
Enter AI-as-a-service
Businesses in this hard-core marketing era seek a competitive advantage over their competitors. And with the AI revolution well underway, Indian businesses recognize the value of AI in gaining better insights, optimizing business processes, and increasing efficiency.
To that end, new on-demand delivery models, known as 'as-a-service' models, have emerged in the market, particularly for small businesses. According to industry sources, it's a win-win situation. This new AI delivery model helps to expand the adoption footprint, and the bundled solutions are simple to implement, can be customized to meet specific needs, and are cost-effective.
To put it simply, AIaaS is a service that outsources AI to allow individuals and businesses to explore and scale AI techniques at a low cost. Given this, start-ups and small and medium-sized enterprises in diverse disciplines are queuing up to adopt these tailored solutions.
"The road to India's success in ensuring AI4all runs through AIaaS (AI-as-a-service) – sector-specific, cost-effective solutions that are easy to implement. India is already seen as an emerging destination for Data Annotation & Labelling services globally. Add to this the fact that India is also home to 1,400 Global Capability Centers, a disruptive emerging AI SaaS ecosystem, and a 500K+ and growing installed AI/ML talent. The critical building blocks are in place to propel India as one of the leading global hubs for Data & AI Services," Sangeeta Gupta, Senior Vice President, and Chief Strategy Officer at NASSCOM stated in a recent report on AI-as-a-service in India.
Its scope in India
The COVID-19 led digital transformation has advanced AI and cognitive computing adoptions. Nearly one-third of global companies have deployed AI and another 50% are actively exploring AI use cases. Here is a little peek at how companies are exploring AI-as-a-service worldwide.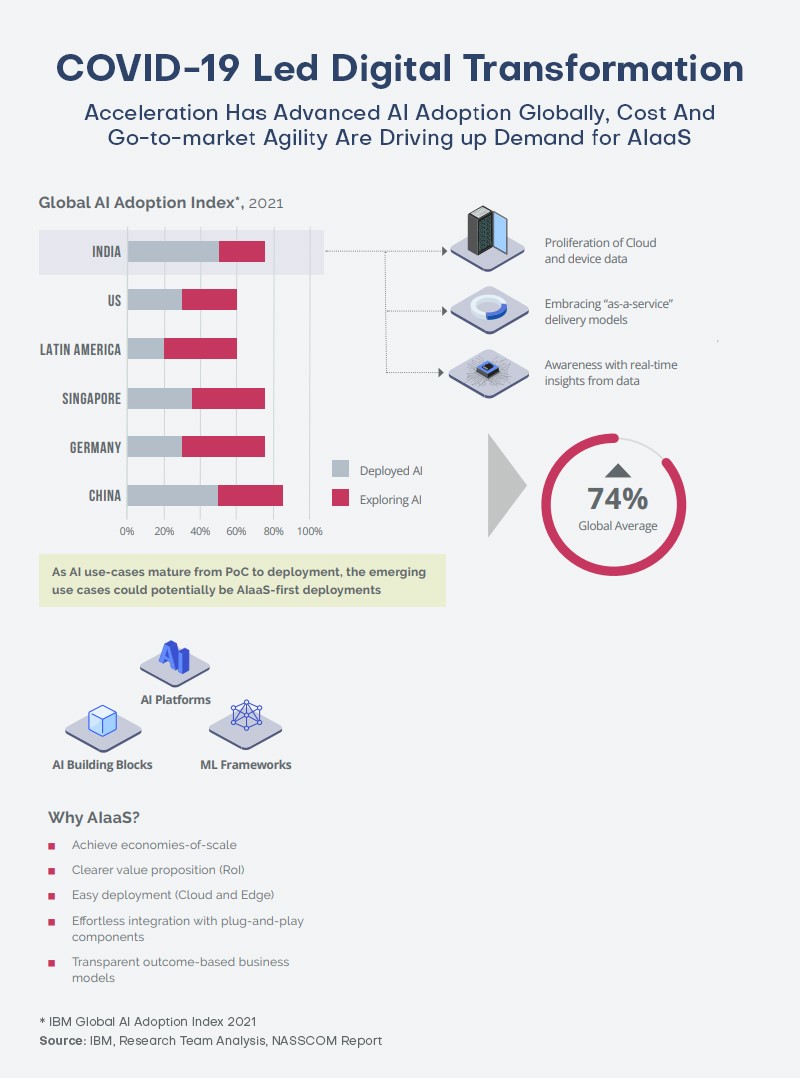 In accordance with AIaaS, India stands to gain tremendously because of this churn in AI adoption across the board. In fact, the democratization of AI and data aligns well with India's planned leap across the core sectors of agriculture, public health, MSMEs, and infrastructure.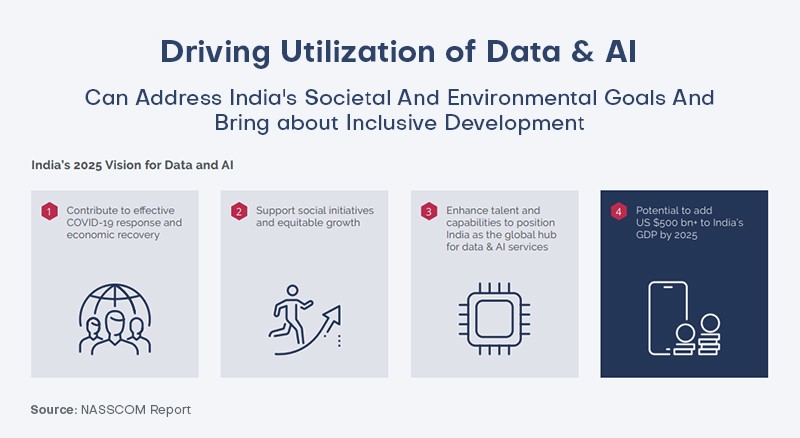 AIaaS to propel India's economy
Because the democratization of AI and data aligns with India's strategic goals in key sectors, they are regarded as the critical levers for propelling India to the US$ 5 trillion economy target. And AIaaS can help to ensure this by providing targeted, cost-effective, and simple-to-implement solutions across industries.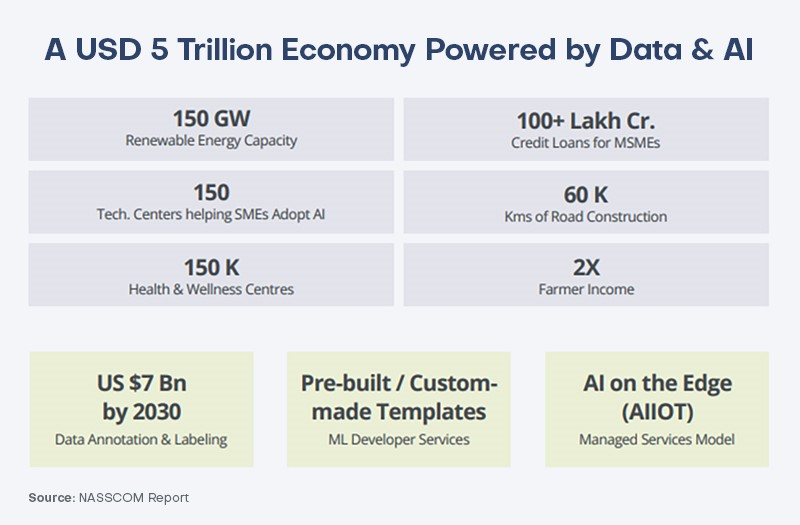 AIaaS in action
AI delivery models could appear similar to the existing cloud computing models, which include SaaS (on-demand software), PaaS (development, integration, and so on), and IaaS, but AIaaS includes additional elements (AI-as-service). While some approaches follow this model, the space is still fluid and evolving.
Just to elaborate, the AI revolution in India (AIaaS) is expected to come with newer and more affordable AI consumption models. A few among them are:
Data Annotation Services-with which annotated voice, text, and image data can be achieved using off-the-shelf tools or can be outsourced, creating new jobs and enabling adoption.
ML Developer Services- i.e., ready-made, cloud-delivered ML models (Model-as-a-service) is another opportunity for India. Hyperscalers (Azure, AWS) with their integrated offerings make for easier adoption without the need for specialized knowledge and expertise
AI on the Edge models- they are coming up with inference-as-a-service or subscription-as-a-service models where the data is stored and the models are built and run on the cloud but are deployed on devices (on the EDGE). This is mainly being adopted via the industrial or manufacturing verticals.
In addition to these, the transaction-based models or the hybrid models which are a mix of both the subscription and transaction-based models are getting popular as they are based on outcome-based pricing.
"The AI cloud is a game-changer in our data-driven world. The estimates say that the AIaaS market is forecast to grow at a 25.8% CAGR by 2030, that's a US$ 43.29 billion market!," says Mitish Chitnavis, Chief Technology Officer, iValue InfoSolutions.
"The hybrid structure allows enterprises to harness AI capabilities with an AI-as-a-Service (AIaaS) model. Today, most of our cloud services are available off the shelf, outsourced to third-party vendors. The future could see the availability of AIaaS platforms as the new operating systems for digital businesses," he adds.
Navigate ahead with AI
If India really wants to achieve its targets as a technology leader, then AI adoption seems the viable runway for that journey. At the same time, with all the critical ingredients in place, the AIaaS model can spawn next-gen capabilities within the Indian tech ecosystem.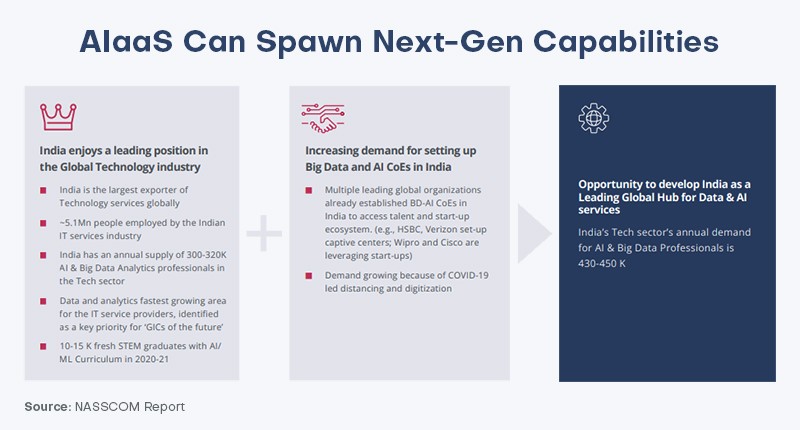 However, there are gaps that must be filled to capitalize on and service the anticipated increase in the demand for AIaaS. To begin with, there is a pressing need for collaboration between the various entities in this ecosystem.
Also, the AI ecosystem is anticipating more investments in R&D. To strengthen this area, India needs government-sponsored R&D or incubation centers and research labs. Also, collaborations between industry and academia and CoEs for AI/AIaaS in key institutions with industry funding will aid our AI capabilities. Start-up incubators can also nurture innovative start-ups.
Furthermore, as India's AIaaS market grows, there is a need to fill the talent gap, which is one of the primary challenges, despite the fact that India produces an average of 2.5 million STEM graduates each year. This implies that there is a lack of practical experience in developing AI solutions among the entry-level talent pool.
Given India's global recognition as the backbone of the world's IT and IT services, there is a natural expectation that Indian companies and talent will be the natural contenders to add 'intelligence' to all of the digitization. Therefore, there is also a need to map out the AI job profiles in order to gain a better understanding of developing the necessary skills for unrestricted AIaaS adoption. This implies that India should work on developing a pool of AI researchers and professionals who are capable of training the new cohorts of skilled individuals.
Overall, to become a global leader as an AIaaS provider, India needs to emphasize on local innovation and R&D to build indigenous AI solutions and AIaaS offerings and business models. With the government's support, the next few years are expected to bring up many instances of collaborations between academia and industry, undertaken to develop the country's research capabilities and increase its output in the fields of both AI and AIaaS.