The moment is just right for them!
The world is experiencing an AI explosion, and the Indian business landscape is no exception. There's a lot of buzz surrounding the use of AI-powered chatbots to boost productivity. This has sparked a great deal of interest. At the same time, there is some trepidation or fear surrounding their adoption, particularly amongst the small businesses.
To assist you, we have compiled a list of several reasons to tell you that chatbots are your new best friends. And they are at every corner—literally!
Look for them in the corners of the websites of any organization. And interestingly, Gartner says that the average person might be having more conversations with chatbots than with their spouse.  
Having said that, chatbots are not new. And you must have come across them innumerable times.  
As a tech entity, they have come quite a long way—from an overhyped AI tech to a D2C instrument, they have quietly seeped into the operations of many businesses, big or small. From HR to sales, companies are leveraging them to upgrade their communication strategies with their peers and their customers. 
In these times of accelerated digital transformation, chatbots bring in more opportunities for businesses by functioning as the first line of their customer services, helping them to connect with their existing and potential clients. According to a recent study, 53% of service organizations expect to use chatbots within the next 18 months, a 136% increase that foreshadows a significant role for the technology soon.
That's why more companies are adopting chatbots in their operations, alongside the now-classic channels of phones, email, and social media. Now let's have a look at our list of reasons! 
Reason no. 1
Just look at these statistics…
9 out of 10 consumers want businesses to communicate with them via text messages.
89% of consumers prefer texting with businesses over any other mode of communication.
63% of consumers would switch to a company that offered text messaging as a communication channel.
Considering these figures, we can certainly infer that customers love texting. Moreover, in India, there is a culture of self-service via telephonic and email customer services, which are generally slow in resolving queries. But it's changing.
Nowadays, consumers are demanding instant forms of communication—messaging apps and social media have replaced emails and telephone calls. And chatbots bridge the communication gap effectively. That's why tech-savvy businesses see chatbots as a much-preferred medium for their first line of response. 
Reason no. 2 
Chatbots never get tired and are at your service 24/7.
 They are like a trusted and loyal employee. And act like super support agents. Also, as they never take a break, they are always available and very accurate when it comes to the job that they are supposed to be doing. As the first line of response, chatbots reduce the workload of the live agents. They also allow agents more time to speak to each customer.  
According to the Live Chat Benchmark Report 2022, intelligent bots can handle up to 91% of the assigned chats without any human involvement, therefore reducing the number of chats that each live agent has to deal with. 
Reason no. 3 
They learn to adapt. 
Techies define chatbots as computer programs that can mimic any human conversation or process, allowing humans to interact with devices. All of this is based on Artificial Intelligence. Chatbots can learn thanks to automation, machine learning, and natural language processing.
Furthermore, they are built to provide real-time support.
Chatbots are programmed to respond to enquiries with human-like dialogue and have the potential to simulate many experiences in a digital setup. The analytics drawn out of this process allow you to gain a better understanding of how your customers communicate.  
As a result, you will be able to formulate better responses to their needs. Incorporating chatbot 'intelligence' into an experience also results in a more robust business model that is difficult to replicate. 
Reason no. 4 
Chatbots can be customized to meet your requirements.
AI chatbots can be tailored to the needs of a wide range of businesses, including for both business-to-consumer (B2C) and business-to-business (B2B) settings.
They can take the form of call center assistants. A call center application is used to make an AI chatbot perform various tasks. A good example of this is a banking interface, where customers can perform simple tasks like checking bank balances, changing passwords or permission settings or even scheduling appointments without having to visit a bank or call customer service. 
Chatbots, on the other hand, provide enterprise support from the back end. They can act as agents to help with inventory management or can help to improve the customer experience by managing customer relationships.  They can also be used as personal assistants. Apps such as Google Assistant and Alexa are some examples of this, which deploy chatbots to assist consumers to navigate their daily routines or needs.  
Reason no. 5 
Chatbots can be used by a host of industries.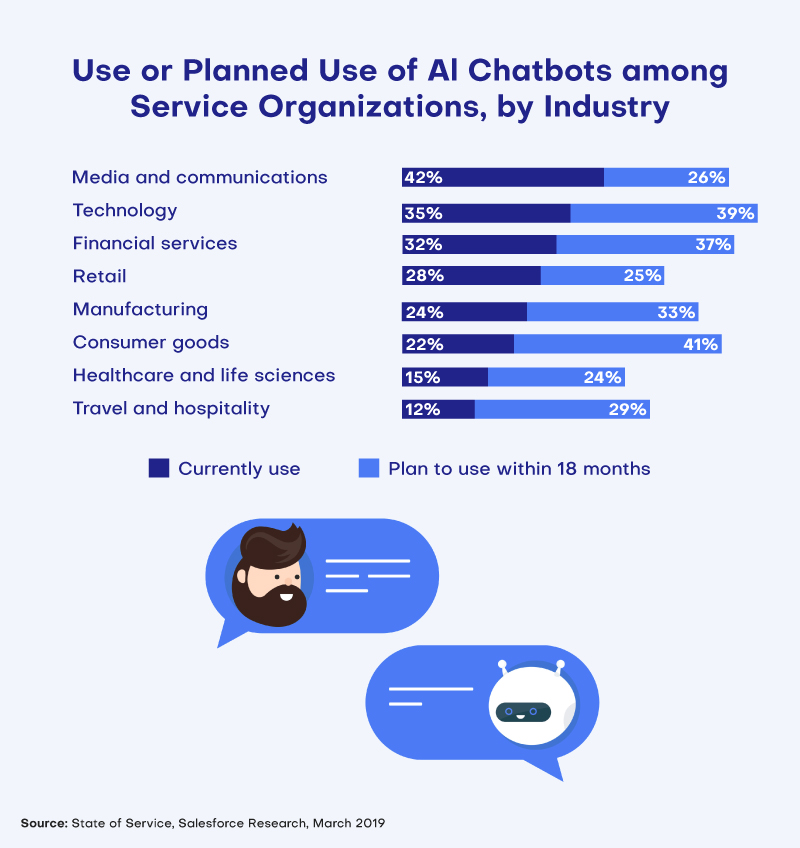 This was just a short recap of what Salesforce predicted in 2019, about which industries were planning to use chatbots. But today, we can say that these figures are only the tip of the iceberg when it comes to chatbot usage capabilities in various industries.
Chatbots are being deployed by various other sectors to offload manual tasks by converting them into digital work. For example, chatbots are being used in hospitality and travel for enquiries, hotel reservations, ordering food, ticketing, etc. Other good examples of this can be found in the retail and e-commerce sectors, where chatbot adoption is rising significantly.  
"With chatbots gaining more human qualities, it is important to utilize the power of machine learning in online shopping. AI-powered tools have become a central part of a lot of customer-centered experience creation and can emulate the presence of an 'in-store assistant' while shopping which can prove to be a great aid for the customer," opines Lokendra Ranawat, Co-founder & CEO of WoodenStreet.
Also, with the recent outbreak of COVID-19, the chatbot has been increasingly deployed by various organizations to respond to customer queries and for other related information. For instance, in 2020 WHO launched a Facebook messenger version of its health platform to give updates. Similarly, the Indian government launched Aarogya Setu.  
During the WFH mode as well, organizations are heavily dependent on chatbots to reduce the burden of their customers' queries, which can keep mounting up rapidly due to the minimal availability of customer service employees. Even HR professionals are leveraging chatbots for smoother human resource and organizational management and are utilizing them extensively during processes such as hiring, resolving HR queries, or providing employee support.  
Due to this, the adoption rate of chatbots is super high. According to Gartner, chatbot technologies will be used in 70% of customer interactions by 2022. A sizable number of customers (1.4 billion) stated that they prefer chatbots to other types of virtual agents or messaging apps, as per Acquire. 
Reason no. 6 
Chatbots can be your business development executives.
We now know that chatbots are an excellent customer service system. However, you'll be pleased to learn that they're also great at generating new leads for your business.
These AI-enabled chat systems can handle initial inquiries, support interactions with customers, and collect information. A bot may ask a series of relevant questions and collect an email address to better deliver qualified leads to salespeople. This information can then be forwarded to a sales representative for follow-ups and for converting the lead into a potential client. 
Reason no. 7 
Chatbots save time and money.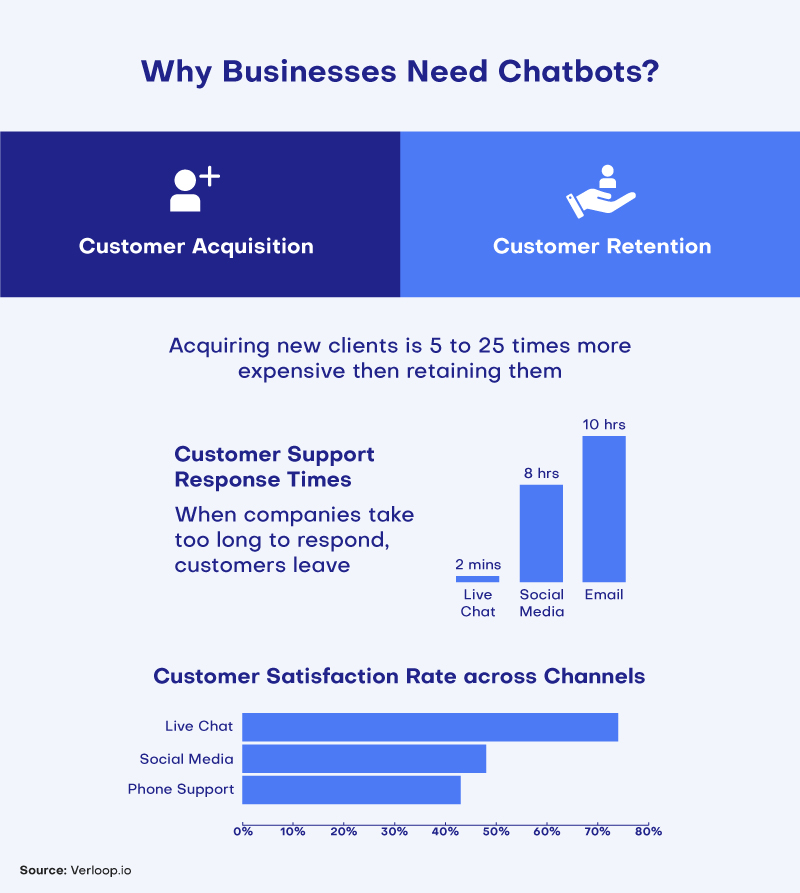 Customer acquisition and retention are the two most expensive aspects of running a business.
According to market research, chatbots can make the process more worthwhile by utilizing technology to make it less expensive. Companies can use AI chatbots to reduce the number of in-house support staff that are needed to manage day-to-day tickets and for responding to inquiries from concerned customers. According to Juniper Research, all of these savings have the potential to total $11 billion in annual savings by 2023, up from $6 billion in 2018. 
These savings are expected to benefit the banking, retail, and healthcare sectors the most.
There is no doubt that the Indian chatbot landscape is growing fast and many organizations have already developed a knack for them.   Before signing off, we recommend that all businesses should work on their chatbot blueprint. This blueprint should include those building blocks that matter most to the company and its needs. For example, it should very clearly state the objective behind their desire to create a great conversational experience for their customers. The blueprint should clearly spell out the information that they want to provide to their customers and analyze the kind of conversational AI chatbot that perfectly fits their organization. The budget should also be kept in mind. And last but not least, a company should choose their tech partner wisely and make the most of the technology that they acquire.